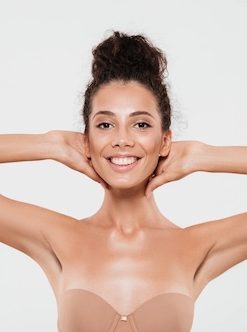 You'll be glad to that this is not the case, and in fact there are a number of solutions to help minimise their appearance.
There are numerous scar-reduction products on the market. Medical procedures that attempt to rebuild the skin in and around scars have the best results. The dermis is stimulated to repair itself.
Are laser treatments suitable for helping me get rid of my stretch marks?
The most effective treatments for acne scars are laser treatments, although they can also help with stretch marks. Fractionated laser resurfacing removes the epidermis' surface cells while leaving healthy skin cells alone. Lasers also target the dermis and induce collagen remodelling, resulting in enhanced skin texture over time.
The Er:YAG (2940nm) fractionated ablative laser resurfacing treatment is offered. This type of laser resurfacing has far less downtime than traditional CO2 laser resurfacing. Individual downtime differs, but it usually lasts a week. The outcomes are normally visible after the superficial skin cells have shed; but, after a few months, ongoing improvement can be noticed.
3-6 therapy sessions (each 3 months apart) may be necessary to detect noticeable improvements. To avoid pigmentary changes, sun protection is required both before and after the therapy.
What about resurfacing your skin? Is this a better option for me?
The TIXEL treatment is an alternative to laser resurfacing. It makes use of a novel thermo-mechanical device that uses heat to rejuvenate surface skin cells and promote collagen synthesis.
Without the use of laser irradiation, this treatment is safe for most parts of your skin. Tixel has less downtime, less skin crusting, and faster skin healing times than regular laser resurfacing.
Results are usually visible after 1-2 months, and 2-5 monthly treatments are recommended.
How do I decide which treatment is suitable for my stretch marks?
To make sure you find the right treatment for your stretch marks, we ask that you come for a consultation first.

Simply visit my contact page to obtain my contact information, and one of my team will schedule a consultation at a time and date that is convenient for you.
Cover Image: drobotdean