WHAT WE ALREADY KNOW…
Last time we spoke briefly about the treatment and what results you can achieve from it. However we received a few questions about the procedure itself. So today we're going to do our best to answer those questions.
LET'S GET STARTED!
Previously we explained that PRP is carried out by extracting the plasma from the patients blood to encourage new cell growth.
However did you know that…
Typically 93% of our blood is made up of red blood cells, 6% is made up of platelets and 1% is made of white blood cells. By using centrifugation we are able to reverse the high concentration of red blood cells to platelet ratio to gain a high concentration of platelets – this is what stimulates the cell repair and encourages the new cell growth.
PRP is also a really effective treatment for various forms of alopecia. In particular, Androgenetic alopecia, which is more commonly know as pattern hair loss. It is also effective for autoimmune conditions like Alopecia areata.
The effectiveness of PRP for alopecia varies as follows…
– Androgenetic alopecia: range from 25-42% for effective hair regrowth
– Alopecia areata: range from 31-76% for effective hair regrowth
HAVE WE CAUGHT YOUR ATTENTION? FIND OUT MORE INTERESTING FACTS IN THE VIDEO BELOW!
Don't forget to like comment and subscribe to Dr Nicole's youtube channel!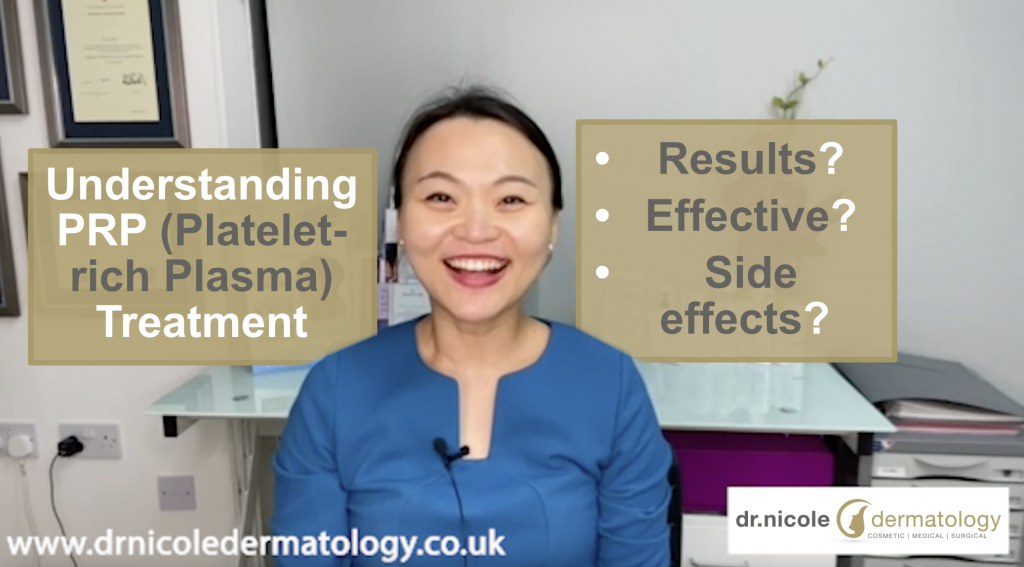 HOW MUCH DOES PRP (PLATELET RICH PLASMA) TREATMENT COST?
PRP Treatment varies in price from £350 for one session or £1750 for a course of six sessions.
HOW DO I BOOK TREATMENT?
In order to start your journey to your new and improved head of hair you will need to have a consultation first. This helps us identify your long term hair goals and whether this is a suitable treatment option for you.
To enquire, simply visit our contact page to find our details, and we'll arrange a consultation at a date and time to suit you.