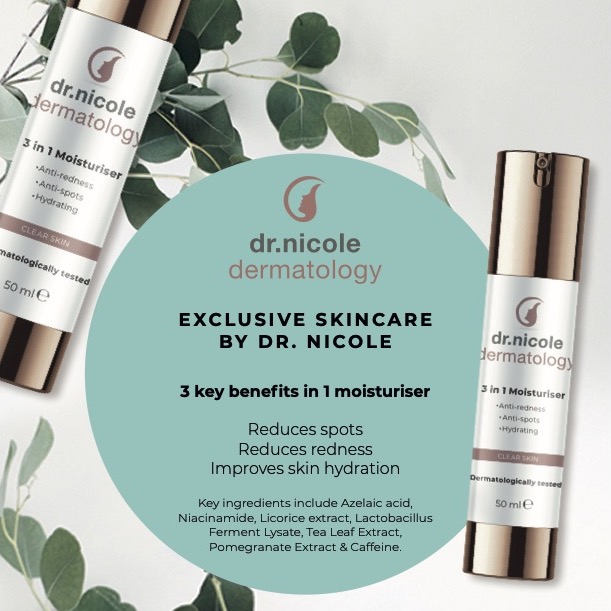 We're often told we need to be using a whole range of skin care products – Toners for redness, serums for spots, moisturisers for soothing…what if a product did all of this?
After lots of testing and trying out different formulas, I can now introduce the new and improved Dr Nicole 3 in 1 moisturiser!
What does the Dr Nicole 3 in 1 Moisturiser do?
This one-of-a-kind formula with Niacinamide, Azelaic acid, and Sulfer is intended for people prone to redness, dark patches, and spots who want a clearer and more uniform skin complexion.
What makes it so unique?
This moisturiser contains glycerin and squalane, which is also lightweight, hydrating, and soothing. Rich in antioxidants, it protects against environmental stressors while nourishing the skin. Suitable for all skin types. It is also an excellent moisturiser for those who use anti-acne medications that have drying effects on the skin.
How do I use it?
Apply and massage gently onto the face (1-2 pumps) and neck (1 pump) morning and evening. This cream is not a substitute for medical treatment but should be used to complement treatments recommended for your skin conditions.
What is the moisturiser made up of?
Aqua, Azelaic Acid, Propylene Glycol, C15-19 Alkane, Niacinamide, Silybu Marianum Ethyl Ester, Glycerin, Caprylic/Capric Triglyceride, Glyceryl Stearate, Coco-Caprylate/Caprate, Squalane, Cetyl Alcohol, Arachidyl Alcohol, Xanthan Gum, Punica Granatum Extract, Camellia Sinensis Leaf Extract, Lactobacillus Ferment Lysate, Glycyrrhiza Glabra Root Extract, Lactobacills Ferment, Caffeine, Peg-30 Castor Oil, Arachidyl Glucoside, Behenyl Alchohol, Leuconostoc/Radish Root Ferment Filtrate, Glucose, Sulfur, Tocopherol, Phenoxyethanol. Ethylhexlgycerin.
Can I buy it online?
You sure can, and you can either order it via the link below or pick it up from the clinic (make sure to call us on 0161 236 6500 to check we have it in stock).
We also have an offer where you can save £10 if you buy x2 moisturisers.